Cricket is one of the most-watched sports after Kabaddi, Hockey, Football and Badminton.  It is said in India that Cricket is not just a sport but an emotion for game lovers. Every year the Indian Premier League (IPL) draws huge eyeballs toward cricket in India. You can easily feel the passion of Indians towards sports as you can find at least one group of kids playing a type of sport or watching it in any area. With the most-watched sports of India, it comes with the big opportunities of advertising as well. We know Brands love cricket as much as we all do, there are tons of advertising opportunities in live cricket matches to target mass audience and create humungous brand awareness. While we are talking about branding opportunities in live cricket matches, let us dive into what are the prominent ways of advertising in live cricket match.
There are majorly 4 types of On Ground Advertising Medium in Live cricket matches, Let us get in details of what these are:
Book Your Ad Space In India Vs South Africa Series
Digital Giant Led Screen – One of the most famous advertising mediums in any live cricket match is the Giant Led Screen which is right after the scoreboard. This giant led screen displays key moments such as the third umpire decision, highlight, audience glimpse, and most importantly your brand's advert. Advertising on this big led screen in cricket matches offers you to convey your brand message to the masses as these screens are shown on the ground as well as to the people watching matches on other mediums such as TV, OTT, Etc.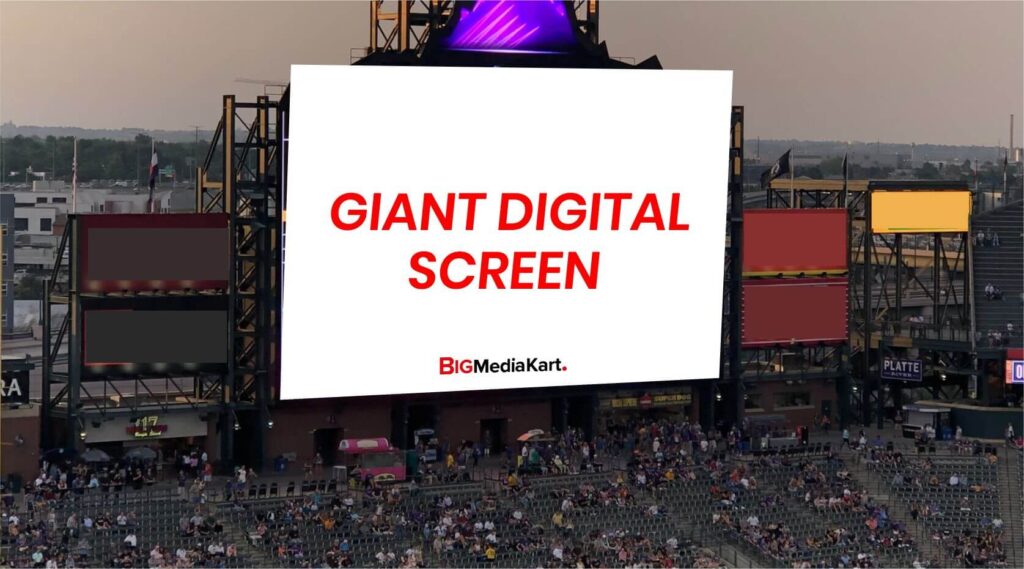 Big Giant Led Screen (Indicative Image Only)
2. Digital Perimeter – Digital Perimeter is the 360- degree digital led boards placed behind the boundary rope. These digital perimeters are the main attraction whenever there is a hit whether it's a four or six hit. Advertising on Digital Perimeter In Live Cricket Matches offers your brand a robust awareness and a top-of-the-mind brand recall to your target audience.
3. Digital Sight Screen – The sight screen is placed behind the batsman after and above the digital perimeter. The Sight Screen is one of the prominent advertising mediums to create unbeatable brand awareness. The Led Sight Screen is shown whenever the bowler starts bowling or when a batsman hits a backshot. Advertising on led screen in live cricket match boosts up your brand engagement with your target audience offering you unbeatable brand mileage. Contact Us To Advertise In Live Cricket Matches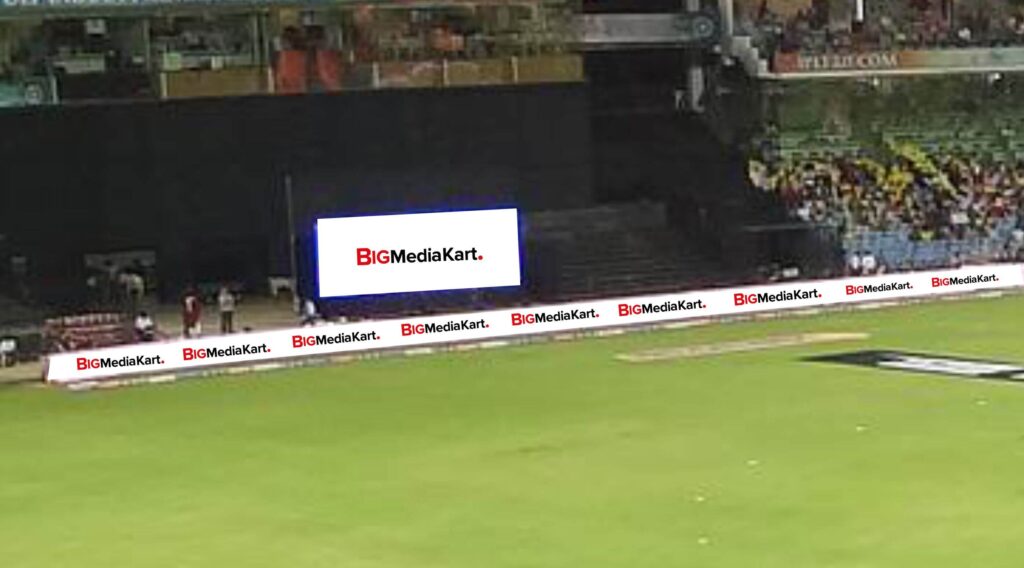 Led Sight Screen (Indicative Purpose Only)
4.Static Upper Tier – As the name perfectly indicates, it is a static (fixed) advertising medium on the second or third tier of the sitting area of the ground. Advertising on Upper Tier in Live Cricket Matches offers your brand zero ad avoidance. It gives your brand a stable place to be there in whole match attracting live cricket audience as well the viewers watching on television or digitally on Disney+ Hotstar.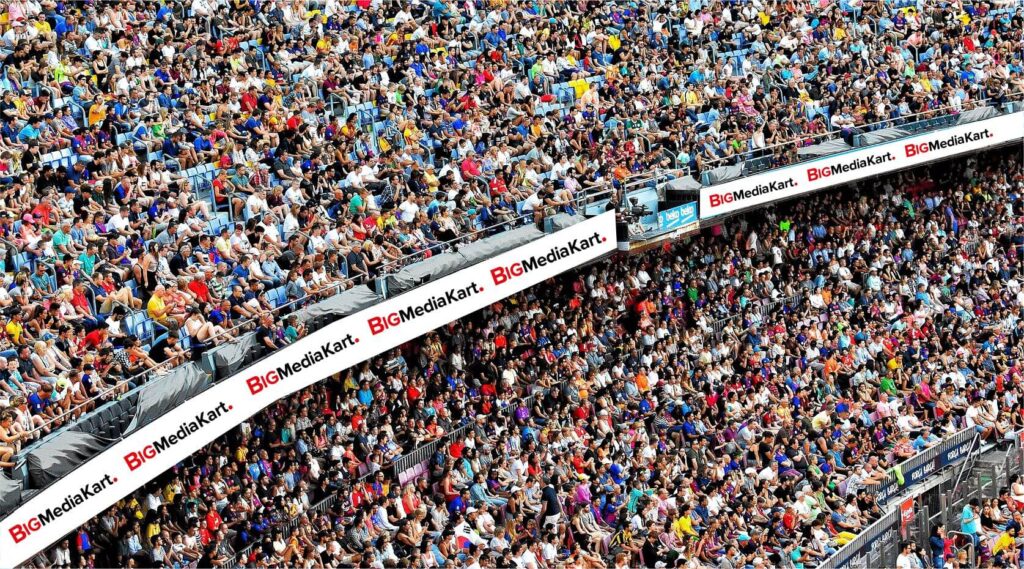 Upper Tier (Indicative Image Only)
Advertising in Cricket Matches with the above-mentioned prominent branding mediums comes with a number of advantages. These advertising mediums not only caters to the live audience but also targets the viewers on Disney+ Hotstar and people watching matches on Television. Let us read some of the benefits of advertising in live cricket match.
1.      Massive Viewership – Advertising In Live Cricket with On Ground Advertising options offers a massive audience pool which offers the brands unstoppable ad mileage.
2.      Sturdy Brand Recall –Advertising in Cricket Stadium offers advertisers loads of opportunities to get a huge brand recall and target their potential audience.
3.      Uninterrupted ROI– Cricket Stadium Advertisements lets you help your brand get uninterrupted ROI, as your brand's advertisement is being displayed on the stadium during the matches which in turn delivers you a grand return on your investment.
4.      Magnificent Engagement – Advertising in Live Cricket Match in T20 Series offers you magnificent engagement with surrounding content from live matches to Pre & Post Live Show and Highlights.
Contact Us To Advertise In Live Cricket Matches to produces an enormous brand engagement and diverts your brand message to millions of people watching the sports match.
Advertising in Cricket Stadium is now easy. Big Media Kart is a leading cricket match Advertising Agency in India that offers you an easy yet affordable platform to choose from various options to get your brand's ad in cricket matches. With an expert staff, Big Media Kart provides you with the best advertising plan to start branding in live cricket matches all over India.