Ad: Grab Your Favorite IPL Team's Jersey & Leave No Stone Unturned To Cheer Up Your Team! Special Offer Up To 85% Off. Howwwwzzzzat!!
Grab Your Favorite IPL Team's Jersey!
Book Your Ad Space In IPL 2021
Advantages of Advertising in IPL 2021
Download Presentation
Contact Us To Advertise In IPL 2021
Being the biggest T20 league in the world, IPL comes with immense opportunities for the advertisers and brands who are looking to target a huge number of people. IPL has broken the viewership record in 2020 through Digital Platforms as well as from the Television and it is believed that in 2021, the viewership number is going to be increased outstandingly.
IPL (Indian Premier League) is one of the major sports events of the year in India. It is also an immense moment for brands and advertisers to target a massive potential audience. About 850 million+ audience watched IPL in 2020 with over more than 400 million people watching it on Disney+ Hotstar. This year in 2021, it is believed that the number of viewers on Disney+ Hotstar is going to drastically increase. Advertising in IPL 2021 is one of the prime branding ways to target a massive audience base and take your brand to the next level.
Massive Viewership – Disney+ Hotstar offers a massive audience pool of 400+ million people which offers the brands the unstoppable ad mileage.
Sturdy Brand Recall – Indian Premier League (IPL) is one of the biggest sports events in India offering the advertisers loads of opportunities to get a huge brand recall and target their potential audience.
Uninterrupted ROI – IPL Advertisements lets you help your brand get uninterrupted ROI, as your brand's advertisement is being played during the IPL matches which in turn delivers you a grand return on your investment.
Magnificient Engagement – Advertising in IPL 2021 offers you magnificent engagement with surrounding content from live matches to Pre & Post Live Show and Highlights.
Target Your Potential Audience Zone – With Disney+ Hotstar IPL Advertising, You can now target your potential audience base with different targeting available on Hotstar such as targeting the top Metro cities or zones like North Zone, South Zone, and many more.
Cost-Effective –

Advertising in IPL

or we can say

IPL advertisements

have never been so cost-effective but with all-new Disney+ Hotstar, you can now start your ad in IPL with a marketing budget of as low as ₹ 6 Lakh.
Branding Spots On Disney+ Hotstar In IPL 2021
Advertising in IPL 2021 can be a game-changer for your brand as this time the IPL will be more interesting, keeping in mind that people will not be able to attend the matches physically which boosts up the viewership on Disney+ Hotstar.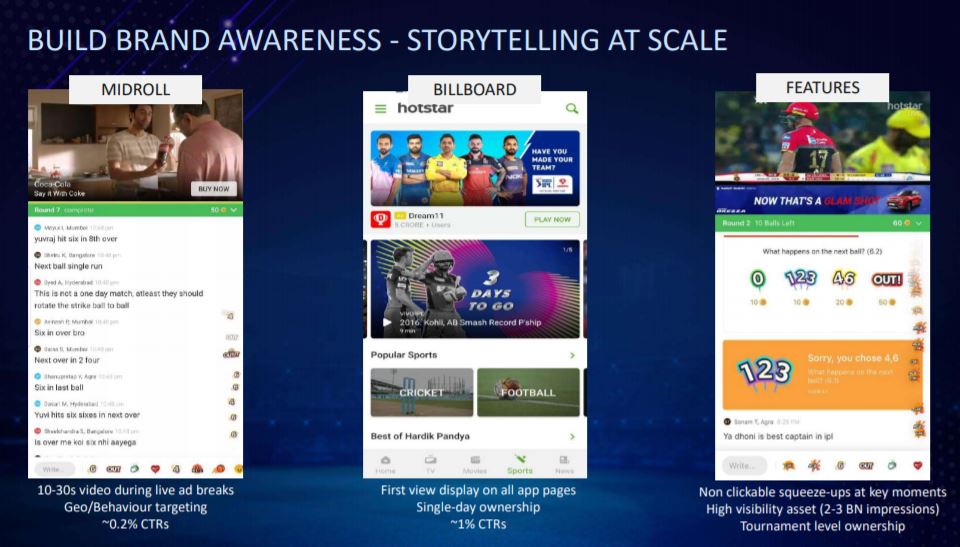 There are different branding spots on Disney+ Hotstar, the most famous ones are as follows:
Mid-Rolls Video Ads: This type of branding spot offers your brand video to run in between the program and live match breaks and is one of the famous amongst the advertisers. Mid Rolls increases your brand's ad engagement rate and offers you a great ROI. Being the biggest pageant of cricket of India, IPL advertising on Disney+ Hotstar is the one-stop solution for all the advertisers to get the most out of the tremendous cricket event with this branding spot.
Billboard: Just like any other outdoor advertising spot, Digital App Advertising has also their Billboard on the main content page. It's a big banner of your brand which can be in a form of video, image, or photo carousel. Billboard can place at different content pages such as Home Page, Shows, Movies, Sports, News and etc.
Features: These are the non-clickable squeeze ups at key moments of the match. This type of IPL ad offers your brand High Visibility delivering you the required boost in the brand engagement.
Interesting Facts About Advertising In IPL on Disney+ Hotstar
Disney+ Hotstar App has over 400 Million+ UserBase with an Increasing 100+ Million Users.
150 Million+ Unique Visitors on every sports event like IPL, ICC World Cup.
15 Million+ Video Impressions per day.
Target Your Potential Audience with different filters such as location, interests, gender and etc.
Choose from different Ad Formats according to your marketing goal.
80% to 90% of sports viewers watch live sports and approximately 10% of users watch sports highlights.
Last Year IPL broke the record of viewership with over 250 Million+ users watching it on the Hotstar App.
IPL Advertising on Disney+ Hotstar App in India is an effective medium of branding and is used by various famous brands to reach their TG (Target Group). Hotstar is India's best online streaming app whether it is TV shows/Movies or Sports. Hotstar has covered it all under one app. The App provides live online streaming service of matches of different sports such as IPL, the ICC World Cup, ProKabaddi, Football and etc. In the world of Digital Advertising, In-App Advertising is doing wonders for brands, whether the aim is to reach the target audience, brand awareness, bringing traffic, or get app installs.
Advertising in IPL 2021 on Hotstar App is now easy & affordable. Big Media Kart is a leading IPL Advertising Agency in India that offers you an easy yet affordable platform to choose from various options to get your brand's ad in IPL. With an expert staff, Big Media Kart provides you with the best advertising plan to start branding in IPL on Hotstar App all over India.
Ad: Grab Your Favorite IPL Team's Coffee Mug & Cheer Up Your Team While Enjoying A Great Coffee. Howwwwzzzzat!!
Grab Your Favorite IPL Team's Coffee Mug!