Description
Click to Watch the video below & explore more about Transit Advertising!
---
Why CTU Bus Advertising In Chandigarh?
CTU Bus Advertising In Chandigarh is a supreme way to target a mass audience in the Tri-City region, i.e. Chandigarh Panchkula and Mohali. Bus Branding In Chandigarh offers your brand the ultimate market exposure which in turn provides you a Sturdy Brand Recall and a grand Return On Investment. The CTU (Chandigarh Transport Undertaking) Buses covers almost every corner of the Tri-City region such as Chandigarh, Panchkula, Zirakpur, Mohali, Derabassi, and Baddi.
Advertising On Buses In Chandigarh is one of the top-tier ways to grab peoples' attention towards your brand's advertisement. Chandigarh Bus Advertising offers your brand to strongly convey your brand message to your potential customers. This outdoor transit advertising mediums in Chandigarh cover almost every area of the city which provides your brand with Zero Ad Avoidance and no location barrier as your brand's ad displays everywhere in the city where the bus goes. CTU Bus Branding In Chandigarh is a leading mode to target a massive number of people which in turn provides your brand's ad to create extensive awareness about your product/services. Bus Branding in Chandigarh offers your brand's advertisement an unbeatable branding mileage as a result of which you get a strong brand recall.
Advertising on Chandigarh Buses ensures you the High Display Area covering almost the entire bus outside as well as the interior of the bus. The Display Area Dimensions of these Buses In Chandigarh are as follows (approximately):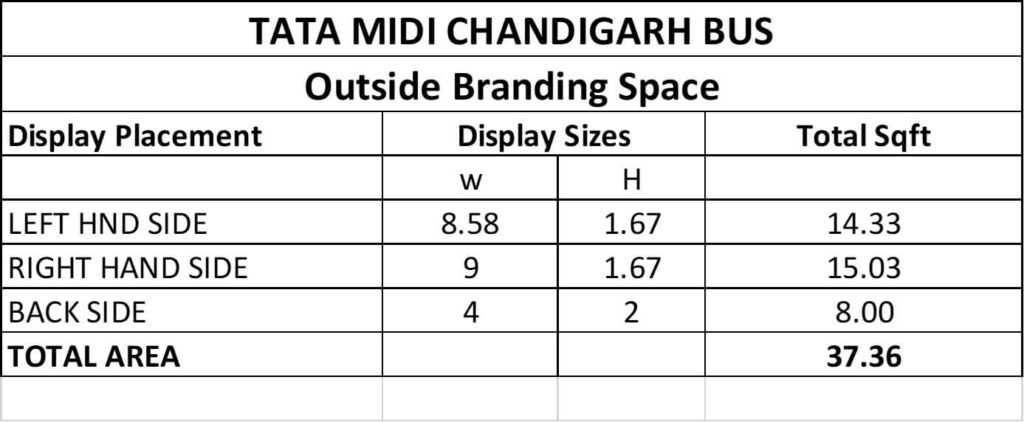 Big Media Kart is the leading Bus advertising agency in Chandigarh offering the finest bus advertisement service.
You Can also check Haryana Roadways Buses Advertisement & DTC Buses Advertisement
---
Bus Route Details:
The buses cover all areas of Chandigarh and nearby areas such as Zirakpur, Panchkula, and Mohali which makes it a seamless medium to advertise your brand and reach out to the masses. Get In Touch With Us For The Comprehensive Bus Routes

* Bus Routes Are Tentative And Exact routes will be shared at the time of booking.
* The client has to choose the depots where the buses belong to.*For More Areas And Depots Details –  Contact Us
*For Terms & Conditions:-  Click Here
Know More About Bus Advertising!
Disclaimer: Prices are just indicative and may not be exact. Do not add any package/product directly into the cart or pay any amount before consulting one of our media experts. Any amount paid via www.bigmediakart.com without consultation from one of our media experts will be refunded after such case has been completely understood and acknowledged by us .
Contact Us For Best Rates & Proper Media Planning/Consultation.
Big Media Kart does not take any responsibility for the prices indicated as they may vary on day to day basis.
Read – Terms & Conditions | Privacy Policy
---
Also Explore: TV Advertising – Know More! OTT Media Advertising Radio Advertising Cinemas Advertising