We all are now very well known to the OTT (Over-The-Top) Streaming Apps whether it is the video section or audio section. We use apps like Disney+ Hotstar, Jio Saavn, Voot, Gaana on a daily basis.
Indian OTT share has drastically increased after the pandemic due to a boom in internet consumption and finding new ways of entertainment. People are watching OTT on Television rather than watching simple TV Programs. Since OTT gives the control to watch any program at any time it has also boosted the CTV Advertising.
But before understanding What CTV Advertising Is?
What is Connected Television (CTV)?
CTV or Connected Television is a digital device that lets your normal television support video streaming, some of examples are Amazon Fire TV, Apple TV, Xbox and etc.
With the boost in demand of OTT and CTVs, a new term has also been in news, known as Cord-Cutting which is the removal of traditional cable TV replacing it with smart streaming devices or CTVs.
Now When we have understood the concept of CTVs, Let us dive into What is CTV Advertising and How Connected Advertising Will Help Your Brand To Reach Your Target Audience.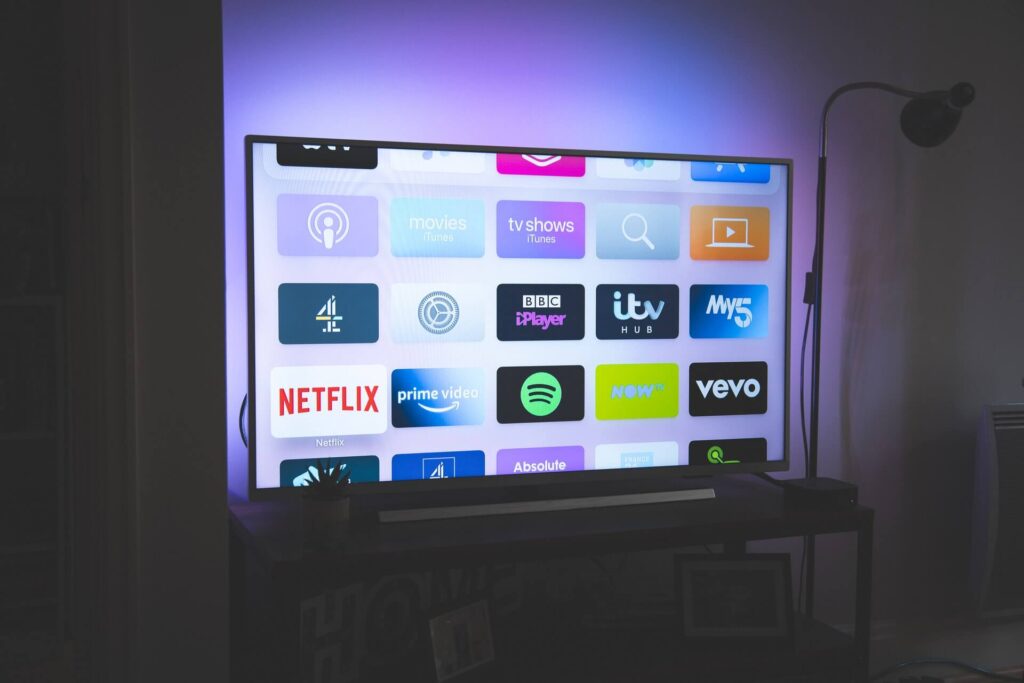 What is CTV Advertising?
CTV Advertising or Connected TV ads are the type of advertisements which run on the CTVs or on Television through any device which is connected to the Internet. Through CTV Advertising you can exactly reach your targeted millennial audience and convey your brand message to them at home. For Example – Through CTV Advertising, You can target Disney+ Hotstar Users who are watching IPL 2022 on their Smart TV or CTV. You can easily advertise in IPL 2022 and target your brand audience.
According to Mordor Intelligence, Indian OTT Streaming Market Size will grow To 5 Billion Dollar in 2023. (Source)
Benefits Of Video Advertising With CTV Ads
With big internet players such as Amazon, Disney+ Hotstar, and Netlfix focusing more on producing original shows on their platform which are becoming immensely popular. CTV is growing like never before with this. The FOMO (fear of missing out) of relatable memes, climax and stories is attracting a lot of people to join these platforms no matter what their age is. With the humogous demand in CTV, it comes with great advertising benefits for advertisers or brands too. Let us get into the Benefits of Video Advertising With CTV Ads:
Millennial Target Audience – CTV has made it possible to target the core interested and millennial audience through filter-enabled video advertising. 
Unbeatable Reach –  With CTV ads, brands can expand their reach and target the premium audience as the Indian-connected TV audience is progressively increasing.
Cost Effective – CTV or Connected TV Advertising is very cost effective when it comes to reaching the masses and compared costing with Linear TV or Regular TV Advertising. In CTV Advertising, you can easily control the CPM (Cost Per Mile Or Cost Per 1000 Impressions or CPCV (Cost Per Completed View), making it a very cost-effective and efficient advertising medium.
Unique Opportunities – With CTV Advertising, you can filter out your target audience based on different options such as Interests, Gender, and Locations.  
Higher Completion Rate With Zero Ad Avoidance – With the coming of CTV ads, the issue of viewability or ad not running is resolved. In CTV, the ads can be non-skippable, the target audience has to watch full ad to continue proceeding further.  This offers the advertisers a 100% viewability rate.
Contact Us to Start CTV Advertising
The final minutiae is that CTV Advertising should be on every marketing strategy to get the best out of your marketing budget. With tremendous growth in video and audio consumption digitally, neglecting the Digital Advertising Or CTV ads can be a bad dream for a marketing plan.