Description
Why Advertising At Delhi International Airport Works?
Airport Advertising In Delhi is the most prime way to grab peoples' attention towards your brand's advertisement. Airport Branding in Delhi at Indira Gandhi International Airport helps your brand to strongly convey your brand message to your potential customers. These airport advertising mediums provide your brand no time limitations as your brand's ad displays 24 x7 to domestic as well as international travelers.
Click Here To Contact Us!  for Advertising On Delhi Airport!
Advertising On Airport in Delhi is a principal mode to target a massive number of people which in turn provides your brand to create extensive awareness about your offered product/services. Indoor Airport Branding at Terminal 3 Domestic Arrival Baggage Hall in Delhi offers your brand's advertisement an immense engagement rate as a result of which you get a strong brand recall. Airport Branding at Indira Gandhi International Airport in Delhi offers your brand a wide exposure with No Time Frame, i.e. your advertisement will be displayed to your potential customers every time they visit the airport to travel somewhere. Indoor Digital Screens Advertising helps you to boost your brand's authenticity and reputation in peoples' minds. Below is the imaginary picture of how 14 Digital Screens For Advertising at Delhi International Airport are located: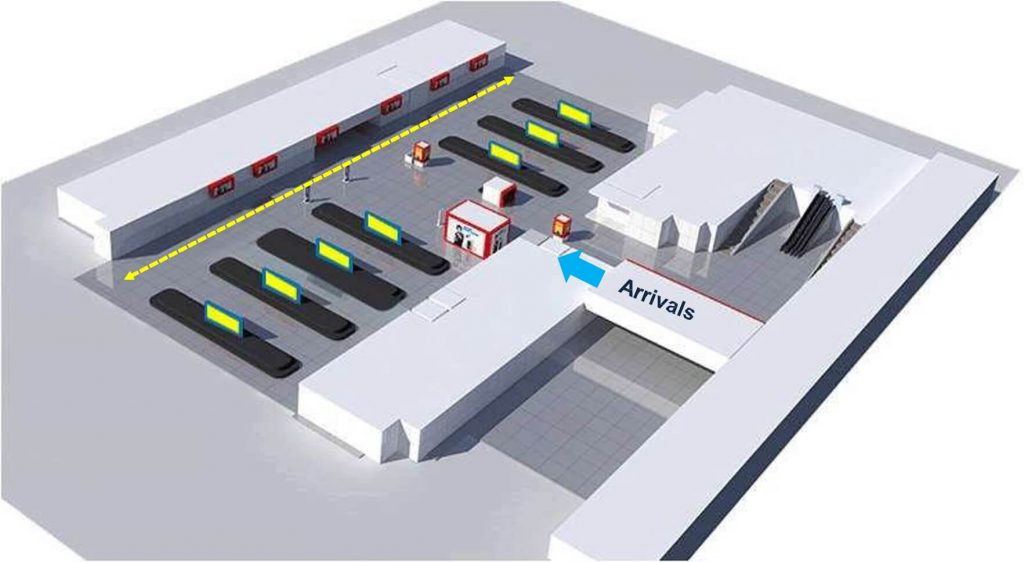 Airport Branding In Delhi helps your brand to create awareness about your product/services by conveying your brand message to your potential target audience which develops familiarity with your brand name every time they visit the airport, this boost up the conversion power of your product or services offered. Advertising On Digital Screens at Domestic Arrival In Delhi Airport helps your brand get the maximum exposure as the screens are specifically located at the main spots of the airport which lets your brand's ad get the highest engagement with Grand ROI.
Being one of the prime and the busiest location, Airport Branding in Delhi is an unbeatable way to enlighten your targeted audience about your brand. Indoor Advertising at International Airport, Delhi provides a "No Time Frame" to the brand' ad, i.e. your brand message will be conveyed 24 x 7 offering information about your brand to the massive number of people visiting the airport. Being one of the most crowded and prime locations, indoor advertising at the airport helps you to build brand reputation and create authenticate your brand's name on the audience's mind.
Disclaimer: Prices are just indicative and may not be exact. Do not add any package/product directly into the cart or pay any amount before consulting one of our media experts. Any amount paid via www.bigmediakart.com without consultation from one of our media experts will be refunded after such case has been completely understood and acknowledged by us .
Big Media Kart is one of the best airport advertising agency in Delhi providing you a one-stop solution for all your media requirements and offers you the best-customized package as per your preference.
Some Random Facts About Delhi International Airport
Record Traffic of 6 Million Plus People In January 2021
Visibility among customers of Full-Service Airlines, and some part of Indigo and SpiceJet Customers, at  Highest Dwell Time Location at Airport!
High Dwell-time Location
International Traffic As Well As Domestic Traffic Visits the airport daily.
Contact Us For Best Rates & Proper Media Planning/Consultation.
Big Media Kart does not take any responsibility for the prices indicated as they may vary on day to day basis.
Read – Terms & Conditions | Privacy Policy
Also Explore: TV Advertising – Know More! OTT Media Advertising Radio Advertising Cinemas Advertising