Description
Why Advertise on HOHO Buses In Delhi?
HOHO Buses Advertisement Campaign in Delhi is the most suitable transit media advertising to boost & immune your Brand Recall by targeting a massive audience. Advertising on HOHO Buses In Delhi offers your brand a wide reach covering the entire Delhi & provides exposure to your brand ensuring you Huge Brand Recall & Grand ROI. Advertising On HOHO Buses In Delhi is an impeccable transit advertising medium to increase your brand visibility as these buses cover major traffic and tourist places of the city providing your brand's advertisement a strong exposure. The HOHO Buses runs from morning 7:00 AM to evening 7:00 PM covering the union territory's famous tourist spots and sightseeing places. The Bus runs every 40 minutes from every spot.
The medium also ensures the High Display Area with the full bus wrapped with brand's ad creative i.e. Driver Side Panel, Conductor Side Panel & Back Side Panel. The Display Area Dimensions (Approx.) of these HOHO Buses are as follows: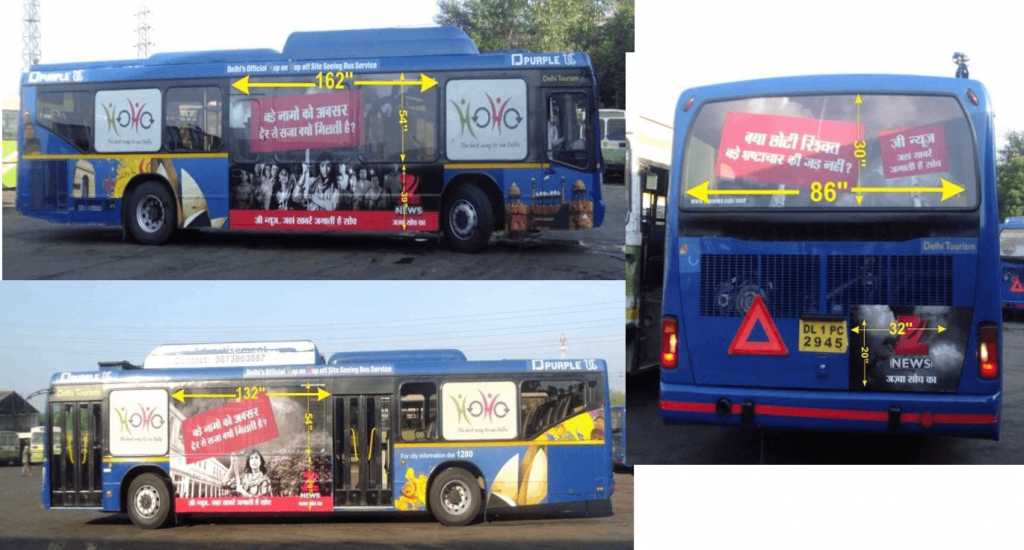 You Can also check Haryana Roadways Buses Advertisement & DTC Bus Branding
---
Depots Details:
The HOHO Bus Advertisement Campaign covers the entire Delhi city making it a perfect medium to advertise your brand and reach out to the masses. The HOHO Buses starts from the following places at every 40 minutes:
Starting Point HOHO Centre- Baba Kharak Singh Marg, Connaught  Place
Rashtrapati Bhawan Museum
Red Fort
Jama Masjid
Raj Ghat
Feroz Shah Kotla Fort
Doll Museum
India Gate
National War Memorial
National Gallery Of Modern Art
Delhi Zoo
Rajpath drive pass (Parade Area)
National Museum
Rashtrapati Bhawan- Vijay Chowk
Rashtrapati Bhawan Building
Nehru Museum
Embassy Lane Drive Pass
National Rail Museum
Sarojini Nagar
Dilli Haat –INA
Qutub Minar
Lotus Temple
Lajpat Nagar Market
*For Terms & Conditions:-  Click Here
Know More About Bus Advertising!
---