Top Outdoor Advertising Opportunities in Mohali
Mohali is a city in Punjab, India and has emerged as one of the most important cities in Punjab and the rest of northern India. This is a shopper's paradise with top outdoor opportunities and is known for its cricket ground. Renamed SAS Nagar in memory of Sahibzada Ajit Singh, the eldest son of Guru Gobind Singh and for many.
That's why for the Brand Advertising, Mohali is known for its top-of-the-line marketing and promotional solutions. On behalf of this Outdoor Advertising in Mohali has proven a way to increase brand visibility. Because, Mohali is one of the most preferred locations among IT outsourcing industries, and many multinational organisations have built their headquarters here.
Why Outdoor Advertising?
Despite the presence of social media and online marketing tools, the medium of outdoor advertisement proves to yield results of advertising. If you want to promote your business in Mohali, there is various outdoor advertising options are available which gives you a vast scope of brand advertisement. Reasons?
Outdoor advertising include hoardings, bus benches, interiors and exteriors of buses, taxis and business vehicles, and signage posted on the exterior and more. You have multiple options of out-of-home advertising in Mohali, but you should have to heed, which option is sure to fit your needs.
To get the leads for your business in Mohali, explore the best Outdoor Advertising options given below:
Hoarding and Billboards Advertising:
Along with a minor difference between Hoarding and Billboard, are very commonly used as the medium of advertising on roads, flyovers, and highways. The billboard used as a giant advertisement that placed along the side of a highway, but the hoarding is a wooden structure which is used to add a security layer and prevent accidents to the public. For example: on the construction site, electrical substation safety sign or more. Thus, hoardings are playing a vital role to apprise your business name around the nation, in a state or in a village as per your brand requirement.
There are famous places in Mohali where you can promote your brand among the audience by the outdoor advertising and these are:
Diplast chowk Mohali

Unipole At Phase 10/11 Lights

Unipole at Golf course

Unipole opposite V R Punjab Mall

Unipole opposite V R Punjab Mall

Unipole at Sohana Gurudwara Lights

Unipole at Sec 70/71 SMU lights

T-POINT Facing PATIALA

T-POINT Facing PATIALA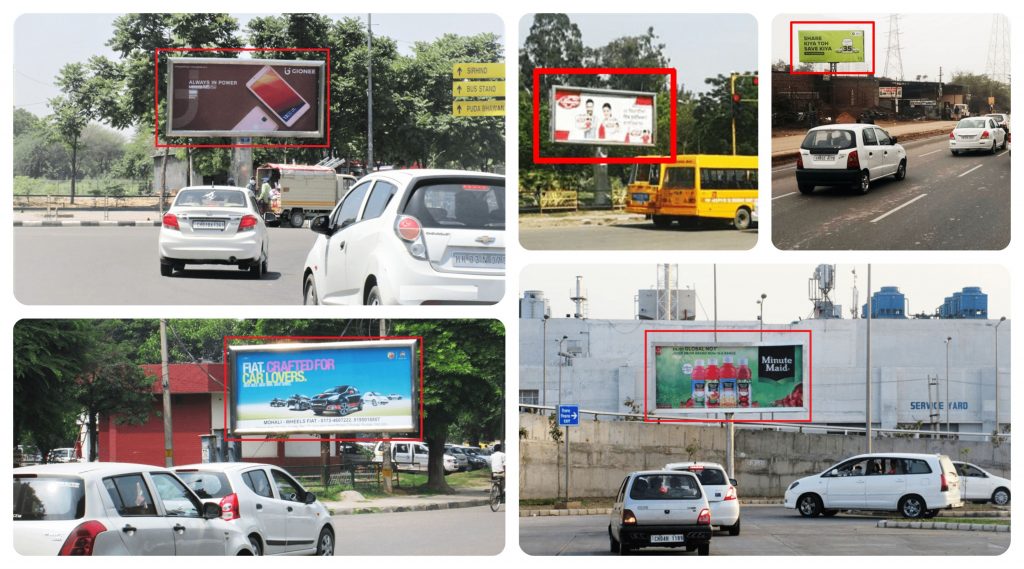 Like hoardings, the outdoor advertising by gantry provides a protection layer for workers, pedestrians and the public against construction garbage and falling objects from the building or construction site. Along with this, Gantry used for the advertisement of various events such as sporting events (e.g., marathon) and on other events where the objective is to provide a highly visible presence and also to launch promotional campaigns. Gantries are available in different sizes and designs, and they can be put up easily at different heights and widths in any locations. Thus, for any kind of brand promotions whether for a big business or a small, Gantries advertising is a best outdoor advertising medium.
For your brand promotion in Mohali, don't forget to advertise on these places to get direct audience leads by Gantry advertising:
Gantry at PCA entry Bridge

Gantry at Fortis Lights

Godrej Lights Mohali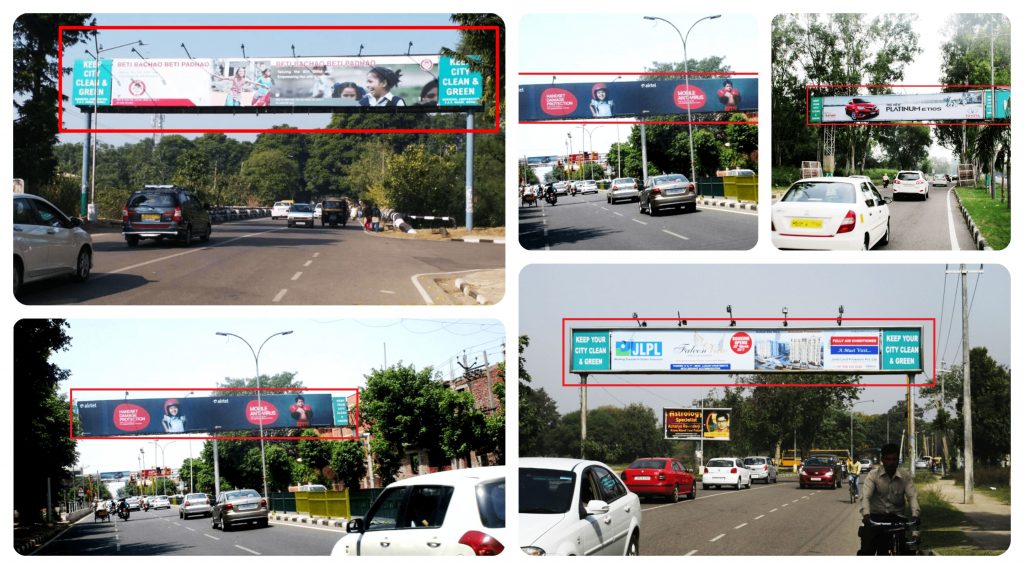 Bus Queue Shelters:
We know that what is the role of Bus queue shelters in advertising. Nothing more option will work better as compared to this. However, it is the best way to grab the attention of your local audience. Since from a long time to till now Bus queue shelters advertising has been the best medium of advertising.
The high-grade Advertising of Bus Queue Shelters places in Mohali are:
BQS In Phase 4 Opp. kalyan Jewellers

BQS near Phase 8 Gurudwara

BQS in Phase 6 Max Hospital Lights at Chandigarh entry    

BQS in Phase 9 Opposite Market    

BQS in Phase 3-A Market

BQS Near PCL Lights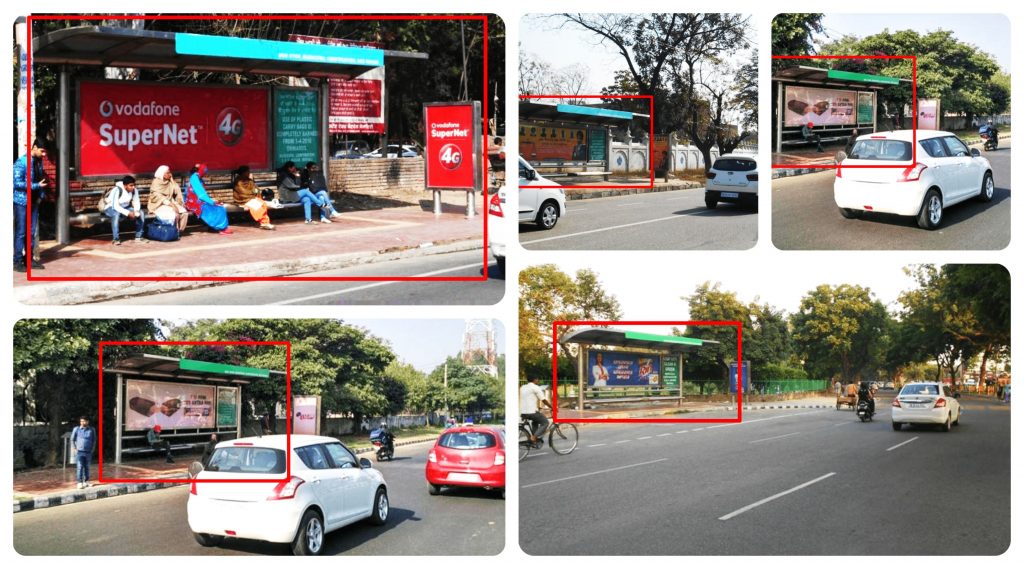 However, all these creative and powerful outdoor advertising options are useful for your brand awareness in front of the public because of their sheer size and grandeur. Firmly, these ads attract potential customers and allow the message to see vividly and clearly.
Grab the best Outdoor Advertising Opportunities in Mohali at lowest rates.